Managing Emotions: Part 2
Managing Emotions: Part 2
Strategies for Positively Coping with Cancer
*Names have been changed to protect privacy.*
See a situation in a positive light. For this coping strategy, instead of focusing on the negative aspects of a situation, reframe it and consider positive outcomes. This is a common technique used by people who have a serious illness or have suffered a loss. Often individuals unconsciously do this by comparing their situation to others who seem to have it worse.
Kathrine Bellamy joined support groups and became very active in the pediatric brain cancer community when her son was diagnosed with a brain tumor. Part of the reason was to stay informed and connect with people who could understand how she was feeling. Another part was to track her son's progress against those of other children. He responded well to surgery and treatment. Other children did not. Eventually, her participation in the cancer community took an emotional toll. Even though her son had two years of tests showing he was cancer-free, her personal involvement in other children's lives amplified her fears about her son. She worried the cancer would return and that he might die. Her husband pointed out that her involvement in the groups, which had helped her at first deal emotionally with her son's cancer, was now making her feel worse.
While comparisons may help a person cope with their cancer or their caregiving role, having another person make that same comparison is likely to backfire and be perceived as insensitive. Denver resident Diane Martin shared a story about a breakfast she had with friends. The conversation turned to recent losses the group had suffered. One woman was getting a divorce. Another woman's teenage son had died in a car crash. Martin's husband, Nate, had also recently died from multiple myeloma. One of the women told Martin that at least she could get a new husband but a child couldn't be replaced. Deeply hurt, Martin abruptly left the lunch.
Comparisons don't always have to be made to reframe a situation. Individuals can also focus on the positive aspects of a situation. For example, a caregiver may find their role exhausting and mostly thankless, but instead of getting angry, they focus on the value they are providing to the other person.
A cancer survivor may feel that they have a new appreciation for life because of the experience.
Set goals. One of the challenges of coping with a serious illness is the lack of control a person feels they have over the situation. On a cancer journey, individuals often feel they have no control over the process or ability to relieve the suffering of a loved one. This can cause frustration and anger. One way to better manage this is by setting goals to solve one problem at a time.  One of the ways many individuals try to gain some control after receiving a cancer diagnosis is by collecting information on the Internet or talking with others who have had a similar experience. Others create short-term goals to help them get through each day.
When setting goals, keep them realistic. Choose goals that you can attain. Caregivers might focus on specific tasks as the father in the play did.
For Arturo Hernandez, the goal was to maintain his daily routine even if it meant it took him longer. He also wanted to keep working. And he did not want to become highly emotional because he felt it would compromise his ability to heal.
Seek hope. The role of hope in the cancer journey is paramount. Patients hope for a cure and hope to live as normally as possible.  A cancer diagnosis doesn't mean that there is no longer hope. Hope, though, may be expressed in different ways – through humor and teasing for example. Hope and positive feelings can also be inspired by talking about the everyday, mundane routines of life.
Seeing the positive aspect of ordinary events can help individuals cope with negative or difficult situations. A person might be inspired and feel more hopeful after pausing to look at a beautiful scene in nature like snowcapped mountains or a rocky ocean shore or they might prepare a special meal or spend an afternoon doing a fun activity with a loved one. For others, spirituality might offer hope. This was the case with Michelle Rasmussen, whose father was diagnosed with terminal liver cancer. To help her cope, she framed the "Footprints in the Sand" poem and hung it on her bedroom wall where she could see it every day.
"I realized that I wasn't alone," she said.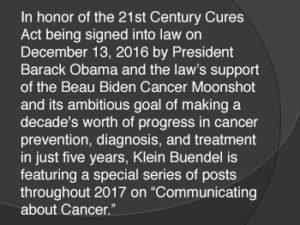 This research project was funded by a grant from the National Cancer Institute (CA144235; Dr. Wayne Beach, San Diego State University, Principal Investigator). Co-investigators included Dr. David Dozier from San Diego State University, and Mary Buller, Dr. Valerie Myers, and Dr. David Buller from Klein Buendel, Inc.