KB Scientist Shares Career Development Guidance in SBM Panel Discussions
KB Scientist Shares Career Development Guidance in SBM Panel Discussions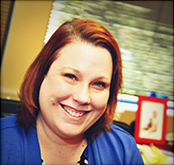 Dr. Valerie Myers, KB Senior Scientist and SBM Fellow, is a co-presenter for three Panel Discussions related to training and career development at the 39th Annual Meeting and Scientific Sessions of the Society of Behavioral Medicine, April 11-14, 2018 in New Orleans, Louisiana.

Perspectives on Effective Digital Health Training in Behavioral Medicine
To be a successful digital health researcher, most individuals find that they need to complete a set of training experiences not well encapsulated by a single degree program. Behavioral medicine scientists and practitioners that utilize digital health must take an entrepreneurial approach to advocating for receiving adequate training to be prepared for the challenges of this field. The call for cross-disciplinary digital health researchers necessitates that both trainees and mentors be flexible and creative with training opportunities. To discuss methods and philosophies for training the next generation of digital health researchers. The Society of Behavioral Medicine's Digital Health Council has assembled a panel of digital health experts spanning academia and industry with varying educational backgrounds. The panel will include: (1) a senior-level academic with interests in mHealth and adolescent health; (2) a mid-career researcher from an academic medical center who receives NIH-funding and engages in formal recurrent consultation with numerous industry partners; (3) an early career electrical engineer with an interest in translational medicine and experience with research career development awards; and (4) a senior scientist at a small health communication and development firm who conducts research on behaviorally-based technological approaches to behavior change. Attendees will leave with practical advice for obtaining adequate digital health training in the post-graduate, postdoctoral, and established career phases.
Nuts and Bolts: A Practical Q&A About Your Education and Career Trajectory
This is an informal panel and Q & A-based discussion of professional development tips for students and early-career researchers. Veteran SBM members who work in academia and industry will cover topics such as (1) making the most of your undergraduate, graduate school, and postdoc years; (2) planning for nontraditional vs. traditional career paths; and (3) publishing as an early career researcher. This event aims to be an opportunity for newer members of SBM to ask about professional development topics they have always wondered about.
Speed Networking Your Career Options: Non-academic Paths for Behavior Scientists
Exciting and challenging career options are open for behavioral medicine scientists outside of traditional academic settings. However, the path from academic training and experience to a non-academic job can be challenging to navigate: how do you prepare, what can you expect, and who can help you along the way? Attendees curious about career options outside of academia are invited to participate in this speed networking event to meet SBM members who work in non-academic settings. Attendees will rotate through small group informational interviews to get answers to critical career development questions such as)1) how do you find non-academic positions; (2) what skills and abilities are most valued in other settings; (3) how do you position your academic productivity into translatable metrics; (4) how to do squeeze a long CV into a short resume; (5) what is the work-life like outside of academia; and (6) what are the perils and pitfalls of non-academic careers? Whether still in training, early in a career, or contemplating a mid-career switch, this session can help SBM members de-mystify non-academic options and opportunities.
In addition to being an SBM Fellow, Dr. Valerie Myers is a member of the SBM Digital Health Council and a new SBM Champion. The Digital Health Council is responsible for identifying and pursuing opportunities, partnerships, and endeavors that strategically position SBM and its members to be leaders in the field of digital health. Champions are SBM members who volunteer to spread the word about important SBM opportunities to other members.