Collaborator Spotlight:
Dr. Robert Saltz
Collaborator Spotlight:
Dr. Robert Saltz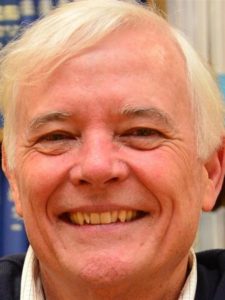 Robert Saltz, Ph.D. is a Senior Research Scientist at the Pacific Institute for Research and Evaluation (PIRE) in Berkeley, California.
He received his Ph.D. in Sociology from the University of Massachusetts. His research explores ways in which drinking context may influence the risk of subsequent injury or death. He has extensive experience researching "responsible beverage service" programs aimed at having bar and restaurant personnel intervene with patrons to reduce the risk of intoxication or driving while impaired.
Dr. Saltz collaborated with Dr. David Buller and Dr. Gill Woodall at Klein Buendel (KB) on the development, trial, and commercialization of the WayToServe® responsible beverage service training program funded by the National Institute on Alcohol Abuse and Alcoholism (NIAAA; W. Gill Woodall, Principal Investigator).
Currently, Dr. Saltz is working with KB on two projects. He serves as a collaborating scientist with Dr.  Woodall on WayToServe Español: A Culturally-Appropriate Online Responsible Beverage Service Training for Spanish-Speaking Servers (MD010405; W. Gill Woodall, Principal Investigator). For this project, he will assist with the creation of culturally-appropriate content and advise on the recruitment of alcohol sales premises.  This study will systematically translate and test an alcohol server training intervention (WayToServe Español). The research will explore overcoming dissemination barriers with ethnically diverse and Spanish speaking restaurant and bar workers.  The team will tailor it to be culturally specific and compatible with the values and needs of the employees, simple to adopt, accessible for trial, and observable in direct benefits and effects on responsible alcohol services. The randomized control trial will take place at Spanish-dominant businesses in the Southwestern region of the United States.
Dr. Saltz also serves as a collaborating scientist with Dr. Buller on "Intervening to prevent Youth Access to Marijuana" (DA038933; David Buller, Principal Investigator). This project's specific aims are to produce a full responsible marijuana vendor training called TrainToTend®. The team will collaborate to develop a comprehensive and compliant training for the marijuana retail and recreation industry in Colorado, Oregon, and Washington. A randomized control trial will evaluate training impact on responsible marijuana vending outcomes. Dr. Saltz will assist with the creation of the training and provide input on the implementation of research methods.
In addition to his collaboration with KB, Dr. Saltz serves as a Principal Investigator for a multi-campus college prevention trial funded by NIAAA. He also serves as Principal Investigator on a community-level project looking at reducing excessive drinking among youth and young adults funded by the Substance Abuse and Mental Health Services Administration (SAMHSA). Dr. Saltz has served as a subject expert for the Surgeon General's Workshop on Drunk Driving, the NIAAA's Taskforce on College Drinking, and the U.S. Department of Education's Higher Education Center for Alcohol, Drug Abuse, and Violence Prevention.