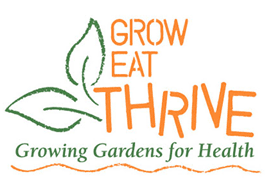 The Grow, Eat, Thrive School Gardening Curriculum is Now Free
September is National Childhood Obesity Month because increasing awareness about how to prevent overweight and obesity children is a public health priority. To help with the effort, Klein Buendel is making its Grow, Eat, Thrive elementary school curriculum available to teachers for free online. Grow, Eat, Thrive pairs nutrition and physical activity education with container gardening for children in grades Kindergarten through 5. It teaches students about the benefits of eating fruits and vegetables and engaging in daily exercise for overall good health.
Grow, Eat, Thrive can stand alone or complement a teacher's existing lesson plans. While completing lessons, students plant their own container or outdoor garden, care for it, and harvest what they have grown. This hands-on approach provides students with a sense of where fresh produce comes from, an appreciation for healthy foods and daily activity, and a connection to making healthy life choices. The lessons are age and grade level appropriate, and relate to a variety of content standards for easy implementation.
The evidence-based curriculum was created and tested by Klein Buendel with students at six Colorado elementary schools and was found to increase knowledge of a healthy diet in all grades. In younger grades, the curriculum improved attitudes toward a healthy diet and increased intake of healthier foods.
"As obesity rates continue to rise, education that addresses nutrition and physical activity in elementary schools is essential," said Ms. Mary Buller, one of the curriculum collaborators from Klein Buendel. "Grow, Eat, Thrive helps makes that education easy and fun for everyone."
Grow, Eat, Thrive was created with a grant from the U.S. Department of Agriculture (USDA 2005-33610-16469; Ms. Lee Stiffler-Myer, Principal Investigator). To access the free lesson plans, visit the Grow, Eat, Thrive website.