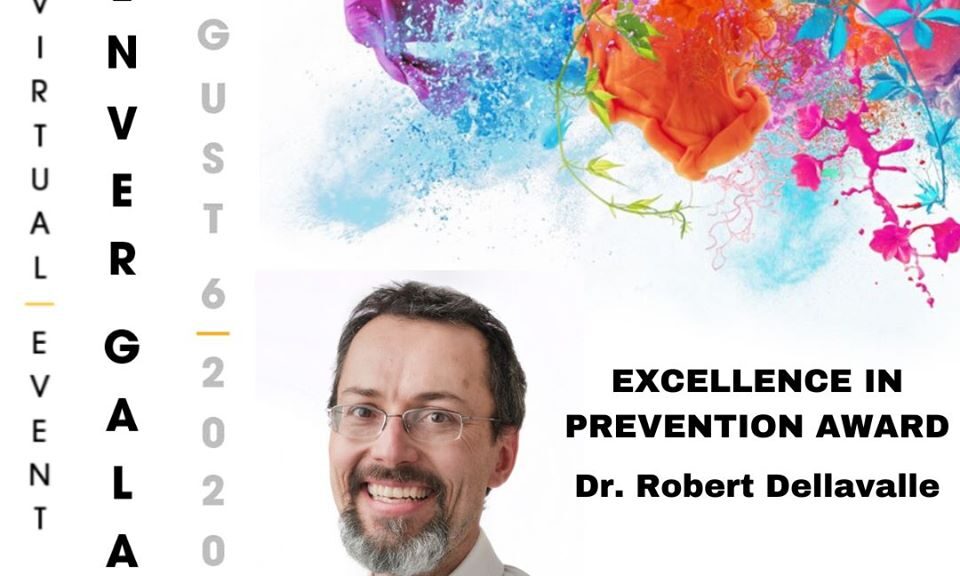 Dr. Robert Dellavalle Honored by Melanoma Research Foundation
Dr. Robert Dellavalle Honored by Melanoma Research Foundation
Robert P. Dellavalle, MD, PhD, MSPH, is being honored with the first Excellence in Prevention Award from the Melanoma Research Foundation at the 2020 Denver Virtual Gala on August 6, 2020. Dr. Dellavalle, a longtime Klein Buendel research collaborator, is a Professor of Dermatology and Public Health at the University of Colorado School of Medicine, and chief of the Dermatology Service at the Rocky Mountain Regional Veterans Administration Hospital in Aurora, Colorado.
Dr. Dellavalle is a lifelong melanoma awareness advocate and leads a prominent research laboratory focused on skin disease prevention and evidence-based dermatology. His laboratory has investigated skin cancer chemoprevention both in vitro and in clinical practice. Their key discoveries include ranking the most disabling skin diseases in the world and in the United States. The laboratory was also the first to summarize global indoor UV tanning age restriction laws, measure compliance with tanning age restrictions, and call for a tax on UV tanning. The research showed that UV tanning salons target minors using advertisements in high school newspapers and that tanning salon operators do not adequately inform customers of the health risks. These discoveries were featured on national television network nightly news and in the U.S. Surgeon General's recent Call to Action to Prevent Skin Cancer.
Currently, Dr. Dellavalle is a Multiple Principal Investigator on Sun Safety Ink!: A Skin Cancer Prevention Program for the Tattoo Community (CA206569) and he is a consultant on Using Technology to Scale-up an Occupational Sun Protection Policy Program (Sun Safe Workplaces Technology) (CA134705). Both are Klein Buendel research projects funded by the National Cancer Institute. Sun Safety Ink! is a skin cancer prevention program for tattoo artists and their clients and Sun Safe Workplaces Technology is a scale-up of an occupational sun protection program for State Department of Transportation employees, who work outdoors. Dr. Dellavalle works closely with Dr. Barbara Walkosz and Dr. David Buller from Klein Buendel on these projects.
Dr. Dellavalle has multiple publications in the highest impact scientific journals including Science, Journal of the American Medical Association, and Nature. He is an affiliate of the American Academy of Dermatology, the Society of Investigative Dermatology, and the Colorado Dermatologic Society. He is also the coordinating editor of the Cochrane Skin Review, that aims to accept for review any aspect of skin disease management which it feels will be of value to professionals or to lay people with an interest in skin disease. Since 2010 he has co-chaired the Colorado Skin Cancer Task Force promoting sun safety and increasing awareness for skin cancer prevention across Colorado at public community events, employee conferences, and school meetings.
Congratulations, Dr. Dellavalle on a well deserved award!