Welcome Dr. Kayla Nuss!
Welcome Dr. Kayla Nuss!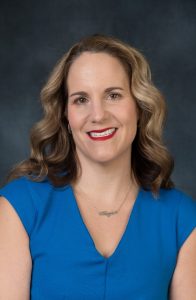 Kayla Nuss, Ph.D., is Klein Buendel's newest Scientist and Principal Investigator. Dr. Nuss comes to Klein Buendel from a post-doctoral fellowship with the Digital Health Lab at the University of Victoria in Canada, where she analyzed de-identified data for a comprehensive digital diabetes intervention program in India.
In 2021, Dr. Nuss earned her Ph.D. in Bioenergetics from Colorado State University (CSU). Her dissertation was titled "Wearable Fitness Trackers in Physical Activity Research: Accuracy and Effects on Motivation and Engagement." She also has two Master's Degrees: one in Health and Exercise Science from CSU and a second in Student Development in Post-Secondary Education from the University of Iowa. She has a Bachelor's Degree in Psychology and Spanish from Cornell College in Iowa. And she graduated from our local Golden High School!
Dr. Nuss' research interests center on motivation for physical activity, how wearable technology supports or thwarts motivation in various populations, and how to optimize wearable technology to support the development and maintenance of engagement in physical activity.
At Klein Buendel, she is currently collaborating with Dr. Robert Newton from the Pennington Biomedical Research Center in Louisiana, Dr. Derek Griffith from Georgetown University, and Dr. David Buller from Klein Buendel on a research study to address physical activity maintenance in African American men with smartphone technology (MD014947; Dr. Robert Newton and Dr. Kayla Nuss, Multiple Principal Investigators).
Dr. Nuss is also a Co-Investigator on a collaborative team of highly-experienced cancer prevention and control investigators from the Four Corners Cancer Centers Collaborative (University of Arizona, University of Colorado, University of New Mexico, and University of Utah), Colorado State University, and Klein Buendel (CA268037; Dr. David Buller and Dr. Andrew Sussman from the University of New Mexico, Multiple Principal Investigators). This team is launching a 5-year research study focusing on decreasing cancer risk factors among emerging adults (ages 18-26) living in rural counties in the "Four Corners" states (Arizona, Colorado, New Mexico, and Utah) using a social media campaign. Dr. Nuss will lend her expertise in the area of motivation for physical activity.