Collaborator Spotlight:
Dr. Wendy Hadley
Collaborator Spotlight:
Dr. Wendy Hadley
Wendy Hadley, PhD, is an Associate Professor in the Department of Counseling Psychology and Human Services in the College of Education at the University of Oregon. She is also the Julie and Keith Thomson Faculty Chair and HEDCO Clinic Director at the University of Oregon.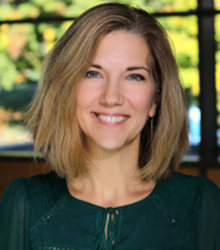 Dr. Hadley received her doctoral degree in clinical child psychology and behavioral medicine from the University of Memphis in 2003. She went on to complete a postdoctoral fellowship with the Brown University Clinical Consortium. Dr. Hadley has worked with many pediatric patients and their families, including those affected by cancer, HIV, feeding disorders, cardiac issues, and obesity.
In addition to her clinical work, Dr Hadley conducts research on adolescent health issues such as obesity, substance use, and risky sexual behaviors. Her recent work has focused on the development and evaluation of interventions focusing on parent-child communication, parental monitoring, and adolescent emotion regulation skills. Some of her work uses web-based technology to deliver and enhance the interventions.
Dr. Hadley is currently working as a Co-Investigator on a collaborative web-based project with Dr. Christopher Houck (Principal Investigator) from Rhode Island Hospital and its parent organization Lifespan Health Systems. The program is called iTRAC, which stands for "Talking about Risk and Adolescent Choices." The research is funded by an STTR Fast-Track grant to Klein Buendel from the Eunice Kennedy Shriver National Institute of Child Health and Human Development (Dr. Christopher Houck, Principal Investigator; HD110333). The goal of the project is to convert the previously existing TRAC program to a web app format while integrating emotional regulation and sexual health education. The program targets young adolescents (ages 12-14 years) at a crucial time of development in order to provide them with evidence-based approaches to manage emotional situations and risky behavior. Additional Co-Investigators include Dr. David Barker from Rhode Island Hospital and Ms. Julia Berteletti from Klein Buendel.