Spotlight:
Dr. Christie Rizzo
Spotlight:
Dr. Christie Rizzo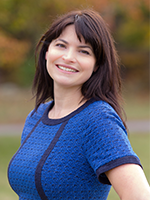 Christie J. Rizzo, Ph.D., is an Associate Professor of Applied Psychology at Northeastern University, and maintains an appointment as an Adjunct Associate Professor of Psychiatry and Human Behavior at Brown University. Dr. Rizzo is leading a collaboration with Klein Buendel to create a Spanish version of Project STRONG, a web-based dating violence prevention program for parents and middle school boys. The interactive, technolyg-delivered curriculum is grounded in Developmental Assets Theory which asserts that family support, knowledge, values development, and social skills are necessary for healthy development and offset the emergence of risky behavior. Project Strong is funded by a grant from the Eunice Kennedy Shriver National Institute of Child Health and Human Development (HD097126; Dr. Christie Rizzo, Principal Investigator).
Dr. Rizzo received her Ph.D. in Clinical Psychology from the University of Southern California. Much of her research focuses on the development and implementation of evidence-based, violence and risk behavior prevention programming for youth, including technology-based initiatives. She particularly focuses on vulnerable youth, such as those involved in the child welfare and juvenile justice systems. Dr. Rizzo was previously the Assistant Director of the Juvenile Mental Health Clinic at the Rhode Island Family Court. She now directs the Adolescent Relationships and Risk Behavior Lab at Northeastern University.
Along with Project STRONG, Dr. Rizzo's current research projects include: 1) Dating Violence Prevention for Juvenile Justice Girls, and 2) Dating Violence Perpetration among Juvenile Justice Youth: The Role of Social, Behavioral, and Ecological Processes.