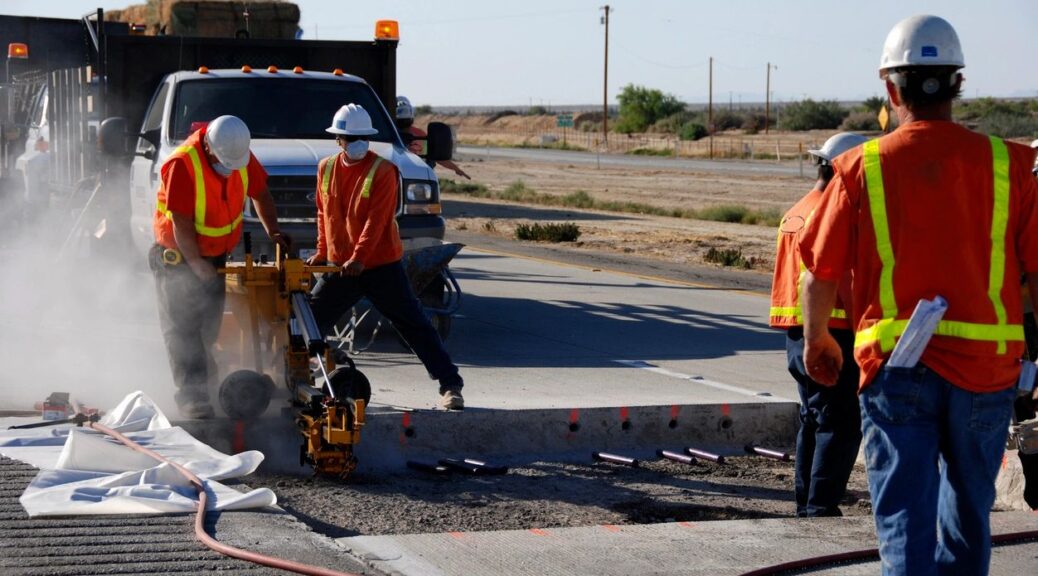 Scaling-up an Evidence-based Workplace Sun Safety Program
Authors of a recent online publication in Contemporary Clinical Trails recommend that "successful methods for scaling-up evidence-based programs are needed to prevent skin cancer among adults who work outdoors in the sun." The paper describes the design and baseline descriptive data from a workplace intervention being conducted by Klein Buendel and several research collaborators. The on-going randomized trial compares two methods of scaling-up the Sun Safe Workplaces intervention with 21 state Departments of Transportation and their employees who work outdoors.
A total of 138 regional districts from the Departments of Transportation were randomly assigned to either an in-person program where project staff meet personally with managers, conduct trainings for employees, and provide printed materials, or a digital program where project staff conduct these same activities virtually, using conferencing technology, online training, and electronic materials.
Delivery of Sun Safe Workplaces in both groups is tailored to managers' readiness to adopt occupational sun safety. Posttesting will assess manager's support for and use of Sun Safe Workplaces and employees' sun safety. An economic evaluation will explore whether the method that uses digital technology that may result in lower implementation of Sun Safe Workplaces, is more cost-effective relative to the in-person method.
The 21 state Departments of Transportation vary in size from 997 to 18,415 employees. At baseline, managers reported being generally supportive of occupational sun safety. A minority reported that the Departments had a written sun safety policy, half reported sun safety training for employees, and two-thirds reported messaging and communication about sun protection for employees. The research will help determine whether digital methods can facilitate a cost-effective scale-up of Sun Safe Workplaces for outdoor workers in industries across the country.
This research project (CA210259) is funded as part of the National Cancer Institute's Cancer Moonshot Initiative, which aims to accelerate cancer research in order to make more therapies available to patients, while also improving the ability to prevent cancer and detect it at an early stage. This project, Sun Safe Workplaces-Technology, is being led by KB's Director of Research, Dr. David Buller, as Principal Investigator. Co-authors on the Contemporary Clinical Trails publication include Dr. Richard Meenan from Kaiser Permanente's Center for Health Research, Dr. Gary Cutter from Pythagoras, Inc., Dr. Sherry Pagoto from the University of Connecticut, and Ms. Mary Buller, Ms. Julia Berteletti, Ms. Rachel Eye, and Dr. Barbara Walkosz from Klein Buendel.