Expressing Empathy: Part 4
Choose Words with Care
It's common for us not to know what to say when we hear that someone has cancer or another serious illness. Responses vary depending on the magnitude or seriousness of the news. How you respond may also depend on how close you are with the person giving the information. Timing is a factor, too. Being caught by surprise can sometimes leave us tongue-tied or not knowing what to say.
Here are some sensitive and compassionate statements to help you respond with care to someone's cancer diagnosis or news.
I'm thinking of you.
You seem worried.
Is there anything I can do for you?
You're not alone on this journey.
I see why you are concerned about this.
I care about you and your family.
Do you need a hug?
Tell me more about what is worrying you.
You're in my thoughts every day.
I'll pray for your recovery.
I'll be here for you.
It sounds like you're feeling _______________.
I'm not sure I've ever been in your position, but I can imagine it's very difficult.
Thank you for sharing your update with me. It must be difficult news to report.
You have a friend in me during this experience and after.
This news is concerning to me. I'll help however I can.
And remember…sometimes we don't have to say anything at all, but rather just be there for them.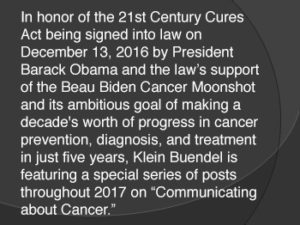 This research project was funded by a grant from the National Cancer Institute (CA144235; Dr. Wayne Beach, San Diego State University, Principal Investigator). Co-investigators included Dr. David Dozier from San Diego State University, and Mary Buller, Dr. Valerie Myers, and Dr. David Buller from Klein Buendel, Inc.