Collaborator Spotlight:
Dr. Robert Newton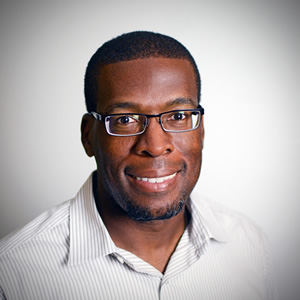 Robert Newton, Jr., Ph.D., is an Associate Professor in the Physical Activity and Ethnic Minority Health Laboratory at Pennington Biomedical Research Center (PBRC) at Louisiana State University. He has collaborated with Dr. Valerie Myers for several years – most recently on the Healthy Detours project funded by the U.S. Centers for Disease Control and Prevention and the MobileMen project funded by the National Institute on Minority Health and Health Disparities.
In Phase I of the MobileMen project, a prototype mobile app to track physical activity, tailored to African American men ages 18 to 45, was developed. The goal was to help African American men in the maintenance phase of physical activity to remain actively physically active. Currently, Dr. Newton and Dr. Myers are working on funding for Phase II of MobileMen. In Phase II, all features of the full mobile app will be programmed and evaluated with the target population.
More broadly, Dr. Newton's research addresses health disparities experienced by the African American community. Much of his work addresses the design and development of physical activity interventions and he also conducts weight loss research. He develops community-based and technologically-driven interventions to promote physical activity, weight management, and weight loss among African American adolescents, adults, and older adults.
Currently, Dr. Newton leads studies assessing the effect of a community-based physical activity intervention in older African American adults and a mobile phone-based intervention targeting increased physical activity in young children. He is also involved in two primary care weight management programs and several childhood physical activity and/or weight management studies.
Dr. Newton has a Ph.D. in Clinical Psychology from the University of Florida. Outside of his work at PBRC, Dr. Newton is the Healthy Equity Special Interest Group Chair for the Society of Behavioral Medicine and is a member of the American College of Sports Medicine.