Collaborator Spotlight:
Dr. Victoria Sánchez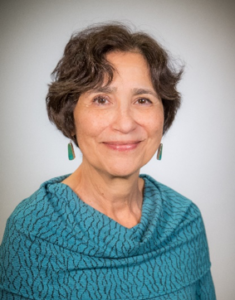 Dr. Victoria Sánchez is an Associate Professor in the College of Population Health at the University of New Mexico (UNM) in Albuquerque.  She earned her MPH at the University of California at Berkeley and her Doctorate in Public Health (DrPH) in Health Behavior and Health Education at the University of North Carolina at Chapel Hill.  She directs the MPH Community Health Concentration track at UNM and teaches social and behavioral sciences courses for the UNM College of Public Health.
Dr. Sánchez has a long-standing commitment to participatory planning and evaluation processes with communities and public health organizations. Over the last thirty years, she has integrated her expertise in public health practice and participatory and multidisciplinary research methodologies to plan and implement joint solutions for reducing health and social disparities in Latino and other vulnerable communities. As a member of multidisciplinary teams, she has applied social and cultural theories and models in the development, tailoring, testing, and evaluation of interventions to improve the health of Latinos/Hispanics in New Mexico, Texas, and California.
Currently, Dr. Sánchez is working with Klein Buendel as a collaborating scientist with Dr. Gill Woodall and Dr. David Buller on WayToServe Español: A Culturally-Appropriate Online Responsible Beverage Service Training for Spanish-Speaking Servers (R44MD010405; Dr. Gill Woodall, Principal Investigator). This research project is funded by the National Institute on Minority Health and Health Disparities. Dr. Sánchez collaborates on the creation and evaluation of culturally-appropriate content and the translation of the English WayToServe® online training program to Spanish. She helps ensure that the translation is compatible with the values and needs of servers in Spanish language-dominant bars and restaurants. The randomized control trial is being conducted at Spanish-dominant businesses in the Southwestern region of the United States. …