Expressing Empathy: Part 3
Tips for Showin

g Empathy: 

Strategies for Becoming More Empathic
Nonverbal Communication
Listen to what is not being said. Pay attention to the nonverbal cues being sent by you and the other person.
Face the person. Keep your body posture relaxed and open. Lean toward the person.
Maintain eye contact. Mimic their facial expressions –be careful that your expression is not blank or frowning.
Physical contact, such as a hug or touching the person's arm, may be helpful.
Recognize what you are feeling, especially negative feelings.
Verbal Communication
What to Say:
If possible, talk in a place that is comfortable and will have minimal interruptions.
Allow the person to talk uninterrupted.
Ask open-ended questions. This lets the person know that you're willing to listen. Example – How are you doing with this? Would it help to talk about this? Is there something troubling you? What are you feeling?
Use a pleasant tone of voice.
Statements you might say:

"You seem worried."
"I see why you are concerned about this."
"Tell me more about what is worrying you."
"I will be here for you."
"It sounds like you are feeling…(fill in the blank)."
What Not to Say:
Do not try to fix the problem, interpret or analyze what is happening, or argue.
Do not preach, lecture, judge, blame or criticize. Avoid saying "should" or "ought to."
Do not minimize their fears by saying, "It will be fine" or "you'll be OK" or "at least it isn't…"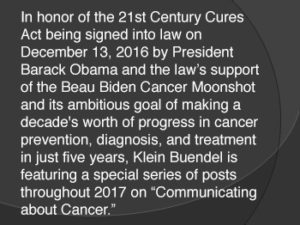 This research project was funded by a grant from the National Cancer Institute (CA144235; Dr. Wayne Beach, San Diego State University, Principal Investigator). Co-investigators included Dr. David Dozier from San Diego State University, and Mary Buller, Dr. Valerie Myers, and Dr. David Buller from Klein Buendel, Inc.